Recoil Sleeves for Mandrel
Belt Wrapping

Constructed of abrasion and cut resistant 60, 70, 80 Shore A polyurethane.

Surface finish machined for maximum tracking and grip.

Diamond Pattern-Chevron-Sure Grip -Rough Finish

Excellent elasticity. Maintains shape after continuous usage in primary steel process lines.

Available in various O.D.ís & I.D.ís.

Standard & custom lengths available.




Designed to perform under continuous load bearing applications.

Non-brittle. Available in nylon type hardness.

Will not rupture or deform.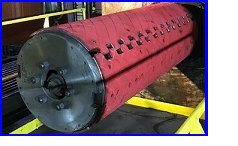 Light Weight


Available in soft durometers
70A-80A or harder 90A and
50D formulations.



Designed for heavy gage
or light gage metal.


Slotted hole for easy alignment
and anchoring.


Pumpkin tooth, serpentine
or beveled edges.


Available with molded steel
backing plate.


Steel bushings in counterbore
holes to reduce wear in
bolt down area.